DISCLAIMER: I IN NO WAY REPRESENT THE REAL ENTITY KNOW AS HORA. NOR HAVE WE MET. THIS SITE IS 100% UNOFFICIAL.

Important News:
NEW CD!!!! GO TO HORA'S SITE TO ORDER!!!
Click the "CD Order & Message" button.
Include your name, address, tel#, and quantity desired.
You'll receive confirmation and paypal invoice within 3 days.
If you don't, try re-sending.

Random Hora-relatedness:
07.07.06 - "Okita Souji's a B-Cup" is one of the weirdest love songs I've ever heard. "Ookita Souji's a B cup" (Bakumatsu jyunjyoden) is the name of a movie about the Shinsengumi. Ookita was originally the 1st division leader, and rumored to be a bishounen. This movie is about what it would have been like if he were a woman. I read that one of the spearheads for the Shinsengumi is a playboy who falls in love with Ookita, knowing she's a woman. But she's in love with this other random guy, and so there's a horribly confusing little love triangle and they all died or something. An actor scan didn't reveal anything particularly relevant to anything Hora's said before, making this yet another indecipherable reference.
And naturally she would have been a B cup, because if he were a D cup she would have tried her sword techniques and fallen on her face I think. Some of you might know the Shinsengumi from Rurouni Kenshin (Samurai X). I had the biggest crush on Saito Hajime for a bit, which might help explain why I'm kinda strange.
Other than that, the band BY SEXUAL did the theme song for this movie. And RYO and Den, members of the band, ended up in Zigzo with ex-Malice Mizer's Tetsu.
06/21/06 - I forgot to mention this, but I finally went and looked up "Papa wa Newscaster" about 5 months ago, which then lead to the glorious synthesis of Fat Gotada (a strange photoshop I made of Dada failing the fusion dance) along with the lyrics from Mimori Yusa's "Koi Kashira" and Hora's mention of a friend getting him sneakers from his trip to Hawaii. It's about a newscaster, Ryuutaro Kagami, who gets drunk, does some things with some women, and talks about how the baby should be named....um....a name. But he doesn't remember it. Then one day 5 girls suddenly show up at his house, all named the same name, and say they're his daughters. He must shoulder the responsibility of taking care of them.
Meanwhile Miyuki is his newscasting partner and lover who goes off to America to train for her own show. She'll be gone for 6 months, and she says she knows he's a playboy, so she doesn't expect him to wait for her. And I guess that's the end of the series. In one of the specials he goes with the children to see her in New York, and in the last I think he ends up with someone else. So much for true love but glory to the angst~
In other words, they must have been re-airing the specials again or something when he wrote that. It's still pretty popular. Case Closed (Detective Boy Conan)...perhaps.
*****
My thoughts on [THE WORLD]
I see this CD as telling a story and giving a sort of message to the listeners...
If you create your own world, no matter how beautiful it is, it's lonely if there's no one else there with you.
As to what kind of story it is, I think it depends on the person listening to it.
Some people will see it as nothing more than a collection of songs, but for others there might be something of their personal experiences...
for others, it might tell the story of the destruction and creation of a world, and of a god who is eventually overwhelmed by it all...perhaps.
Hora never really talked about those things~
So basically, I guess you take out of it what you want to or need to; personally, I know it'll get me through the winter...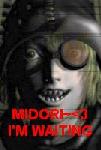 Parano. Midori doesn't like him.